De sportscholen en boxen zijn allemaal dicht. De ene box leent spullen uit en programmeert home WOD's de ander programmeert trainingen waarbij je spullen kunt ophalen voor de WOD zodat je in de omgeving kunt sporten en andere boxen en sportscholen doen even niets. Wat jij ook ter beschikking hebt, het is toch anders en dan wil je het wel leuk houden.
De grootste struikel punten in het thuis trainen of los van elkaar met grote afstand er tussen zijn toch wel de sociale interactie en de competitie en daarnaast missen dat beetje motivatie / coaching en uitdaging. Wij hebben daarom eens een paar tips verzameld van verschillende boxen en sporters.
Connect en train
Op het gebied van techniek is er meer dan genoeg beschikbaar. Start een Zoom call, Google Meet, Microsoft Teams call of misschien wel gewoon een facetime belletje en doe toch "soort van" samen een workout. Helemaal leuk als je dit doet in de vorm van een buddy WOD en dan tegen een ander duo. Maar je kunt natuurlijk ook met elkaar afspreken en ieder op een hoek van een (speel)veld gaan trainen. Probeer elkaar te vinden en te motiveren en train al dan niet digitaal met elkaar. Na de training neem je natuurlijk nog even een bakkie om na te kletsen (train je live op een veld? neem allemaal een thermoskan mee).
Start een challenge
Als je dan toch al de connectie hebt met een aantal mede atleten dan is het natuurlijk een goed idee om naast de WOD's misschien ook wel een challenge te starten. Dit kan zijn doe elke dag x herhaling van Y, maar je kunt natuurlijk ook denken aan een soort estafette challange, je zet het aantal herhalingen vast en elke dag bedenkt iemand anders de oefening die je dan dat aantal keer moet doen.
Hulpmiddelen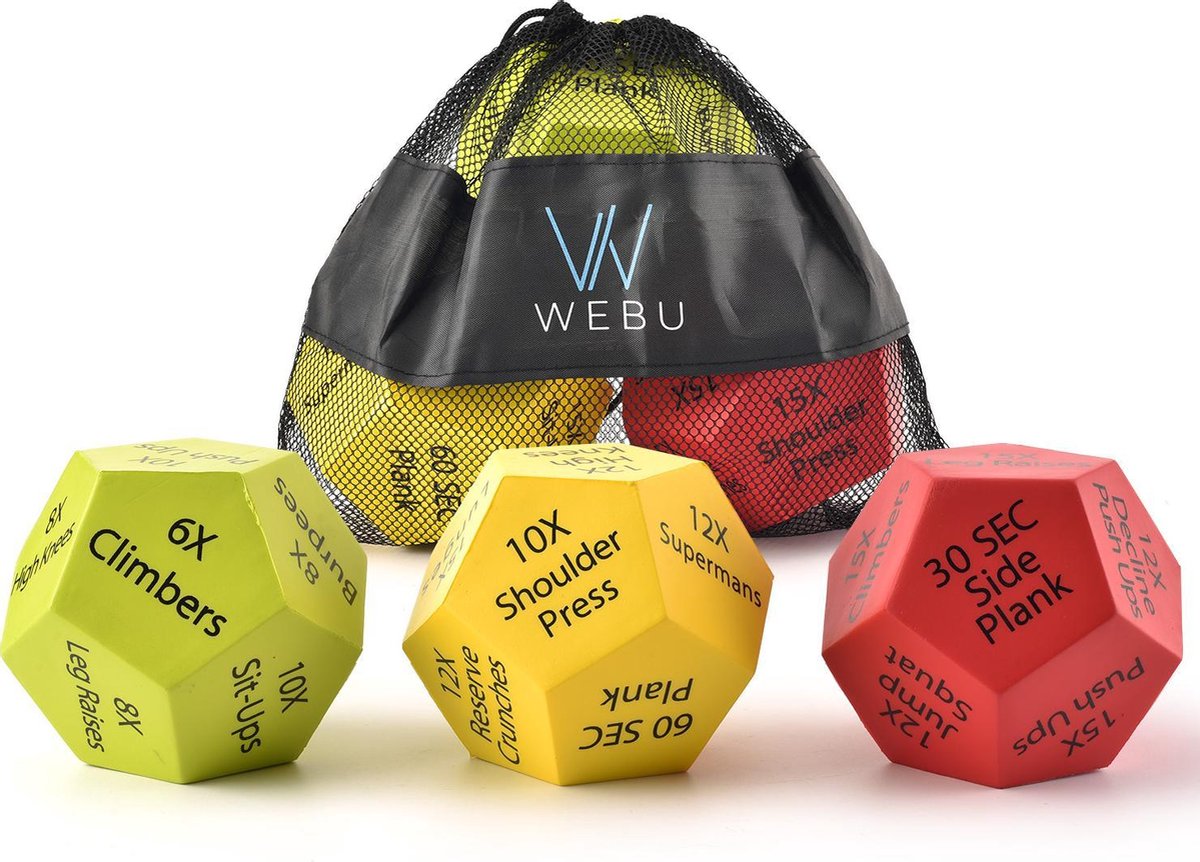 Er zijn ook zat hulpmiddelen te vinden. Zo schreven wij al enige tijd geleden over de Home Workout Game van Barbellwear. Maar er zijn nog meer middelen. Zoals deze Webu workout dobbelstenen. Of voor als je met iemand in huis woont en een kaartspel kunt spelen gecombineert met sporten het BLUFF IT Kaartspel.
Maar bedenk ook zelf trainingen en oefeningen met middelen om je heen. Denk eens aan een speeltuin, hier kun je denken aan pull-ups aan stangen, maar ook bijvoorbeeld jumps over de wip, dips op het bankje, etc. En laat die nieuwe en leuke dingen die je dan hebt bedacht ook weten aan je mede-atleten.
Doe eens iets anders
CrossFit is de ultieme sport om nu ook eens iets anders uitdagends te gaan doen. Ben je niet zo goed in harlopen? Ga nu wat vaker hardlopen, liefst natuurlijk met een buddy die jou kan motiveren en misschien zelfs wel kan coachen. Maar je kunt ook denken aan een ander soort training waardoor jij een nieuwe skill op kunt bouwen bijvoorbeeld trainen op of met een balance board. Je hoeft hier natuurlijk niet meteen op te gaan staan, je kunt er ook pushups op doen.
Al met al denken wij dat het niet zo lang meer duurt voordat we weer met elkaar kunnen en mogen trainen, dus hou het nog even vol, zoek elkaar digitaal op en train lekker door.