Het hing al even in de lucht Mathew Fraser zou met een boek gaan komen. En nu kunnen we hem alvast bestellen.
Het boek van Mathew Fraser meermalig CrossFit kampioen is er bijna echt. Zoals in CrossFit veel gebruikt word heeft het engelstalige boek heel toepasselijk een afkorting gekregen als titel namelijk "HWPO". Voluit betekent het "Hard Work Pays Off" en heeft de ondertitel Train. Eat. Sleep. Repeat gekregen.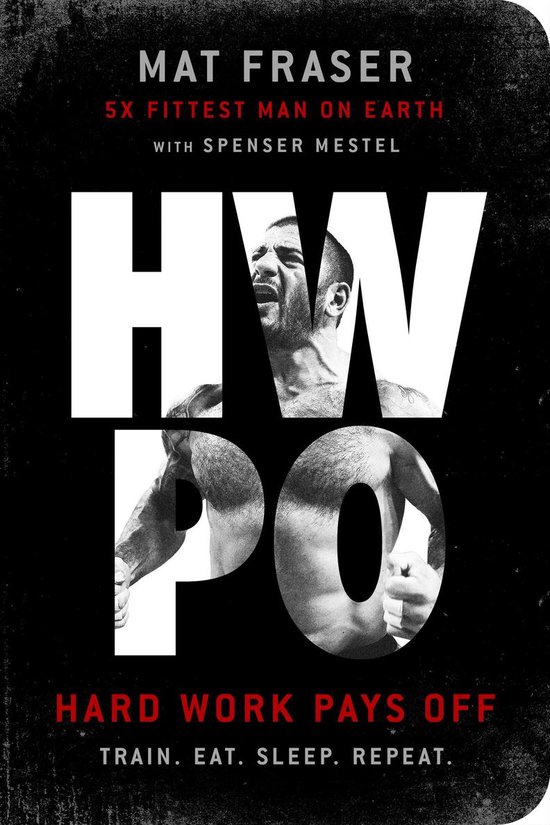 HWPO Mat Fraser
Hard Work Pays Off
HWPO is geschreven door Mat zelf samen met Spenser Mestel. Spenser Mestel is een journalist uit Brooklyn die voornamelijk schrijft over fitness en stemrecht.
Over het boek
Transformeer je lichaam en geest met de definitieve gids voor het opbouwen van maximale kracht, uithoudingsvermogen en snelheid, van de vijfvoudig CrossFit Games-kampioen en Fittest Man on Earth
Ongeacht jouw conditie, ongeacht of je nog nooit CrossFit hebt geprobeerd, dit boek is jouw totale trainingshandleiding.
Mat Fraser is onbetwist de sterkste man in de geschiedenis van CrossFit omdat hij de CrossFit Games een ongekende vijf keer heeft gewonnen. Fraser, een student engineering, optimaliseerde zijn lichaam als een machine. Zijn absolute toewijding aan het trainingsprogramma dat hij voor zichzelf ontwierp is nu legendarisch. Jarenlang werd elke beslissing die hij nam afgewogen tegen de vraag: "Zal dit me helpen winnen?" Als het antwoord nee was, deed hij het niet. Als het hem ook maar de geringste voorsprong of voordeel zou geven, zou hij het doen – ongeacht de kosten. Fraser werd een meester in het identificeren van zijn zwakke punten en zocht vervolgens naar trainingsmethoden om ze te verbeteren, en hij wordt verafgood in de fitnessgemeenschap vanwege zijn meedogenloze streven naar topprestaties. Het is niet moeilijk in te zien waarom hij zoveel succes behaalde, maar hoe is een andere vraag.
Gedurende zijn carrière is Fraser zeer op zijn hoede geweest over zijn specifieke trainingstechnieken (per slot van rekening zou het delen ervan hem niet helpen de CrossFit Games te winnen). Maar met zijn recente pensionering van competitie, is Fraser eindelijk klaar om open te zijn over zijn pad naar het podium. HWPO onthult de trainingen, trainingshacks, eetplannen en mentale strategieën die hem tot een kampioen hebben gemaakt. Het is een ongelooflijke bron van elite-trainingsstrategieën, geïllustreerde trainingen en motiverende verhalen, en het is een kijkje in de geest van een van 's werelds grootste atleten.
Je kunt vanaf nu het boek HWPO nu al bestellen als pre-order op bijv. Bol.com